Melrose Park Spinal Decompression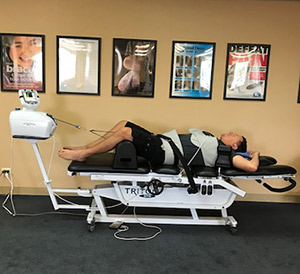 The Chiropractic Connection now has the Chattanooga Triton DTS TRT-600 spine therapy table! Experience relief with this sophisticated device and highly effective technique!
Benefits of Spinal Decompression
Nonsurgical
Spinal decompression is a nonsurgical treatment option for people experiencing mild to moderate back pain. This back pain can be caused by a degenerative disc disease, such as a bulging disc or herniated disc that is placing pressure on a nearby nerve root.
Enhances Rehabilitation
Gently drawing apart each joint like an accordion allows the spine to reset, and the pumping action enhances soft tissue nutrition and rehabilitation.
Relief
This type of therapy is used to realign the components of the spine in order to relieve pressure on a pinched nerve that is causing chronic pain and symptoms.
Contact our office to schedule an appointment and get on the road to recovery. (708) 345-1299